Friday, December 17, 2021 French aerospace industry
Visited Barsi for the event "Next Place: Relaunch, Springboard of a New Place". One year after the kick-off to France Reliance's space component, which has a budget of 515 million euros, the event made it possible to take stock of the activities performed within the framework of the France Reliance plan and project beyond. Crisis with France 2030.
In less than a year, CNES, the sole operator of France Reliance's space division, launched 9 calls for the project, 1 call for interest and tested more than 200 applications. All fields (launchers, orbital systems, tools, applications) and all types of companies (start-ups, SMEs, ETIs, large groups) are represented among the 75 winning companies, 80% of which are VSE or SME.
From the latest wave of winners, 33 start-ups and SMEs have signed an agreement to market new services using spatial data, in just two years. Each had to support their project before a jury during a "pitch day" held with 11 partner regions of the "Space Tour 2021".
A call has been launched in partnership with Occitanie's regional council for projects to show payloads or equipment for nano-satellites that could be put into orbit before 2023, or flight validation. About twenty files were submitted to this call for projects and 3 were selected for funding through the National Recovery Plan.
The three projects that have just been selected:
"LiFi" project Dr. led an ambitious life project Oldcom
For the first time in the world, life technology is being tested in space. This optical wireless communication technology is simple, fast and without electromagnetic waves. Already proven for terrestrial applications, the LIFIS project aims to enable LiFi communication modules to be placed in orbit so that they can demonstrate the ability to operate in space conditions depending on the loft orbital.
"Syncrocube" project Dr. led the ambition of the Syncrocube project U space
Its main partner is providing a complementary or alternative solution to the GNSS system with Syrlinks that provides the ground time synchronization function when GNSS signals are not usable.
To accomplish this mission, U-Space will take a Syrlinks payload and all the technology from its partners Anywaves, Comat and Microtec to a powered 6U nanosatellite platform. This new concept of secure time services based on a nanosatellite platform will address markets such as energy, telecommunications, intelligent transport, finance, and more.
"Radio Occupation and IOD" project Led radio ambition and IOD project ambition Himeria
Accelerate market access for 8 nanosatellite technologies from French R&D provided by Anywaves, Comat, CS Group, Hemeria, Mecano-ID, Steel and Syntony. The project aims to develop partners' competitiveness through the first use of their technology in an operational environment, to stimulate exchanges between these actors to bring a sector vision towards face-to-face resilience to competitive ecosystems, and finally Serves. Two calls are still open for the project in the nanosatellite component
And by next summer, it will be possible to support new companies offering innovative scientific and technological ideas or services based on nanosatellites.
During the event, a call for projects for the development of microlancers was also announced. " With France Reliance and France 2030 plans, the state is investing 2 billion euros in the space sector so that France can maintain its position globally and innovate tomorrow's launchers, satellites and space services. Remaining a great space nation is our strategic ambition, and we can only achieve it collectively: with CNES, with our innovative start-ups, with our SMEs and with our major industry groups. Today's event in Barsi is an important milestone in the implementation of France Reliance and the establishment of this public support.
The announcement was made by Bruno Le Mayer, Minister of Economy, Finance and Recovery, who is in charge of space.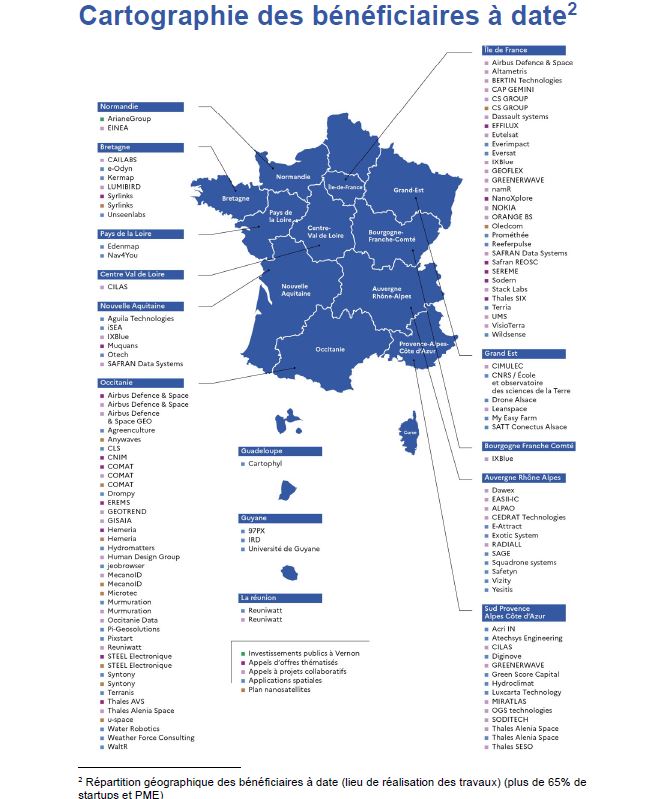 With a final sales of 3.4 billion euros in 2020, half of which is 17,700 high-level direct jobs in the commercial and export markets and in the entire manufacturing chain, France's aerospace sector accounts for about 45% of all sales. European aerospace industry.
Complete file matching items of the winners in the space division of France Reliance