UN Under-Secretary-General Rosemary DiCarlo said, "We have an important opportunity to build consensus on how to use digital technology for the benefit of the people and the planet, and to address their risks." Political issues and peace building. "But joint action by member states is essential to achieve this goal."
He noted that social media has transformed advocacy for human rights and humanitarian aid, "making it possible for people around the world to organize quickly and effectively in need of urgent action."
In the areas of peacekeeping and security, he said, technological advances have improved the ability to identify crises, pre-position humanitarian assistance and create information-driven peace-building tools.
UN Photo / Manuel Elias
Rosemary DiCarlo, the UN's political affairs chief, is in front of the Security Council.
Tools that can improve security
And when it comes to conflict prevention, the new digital tool has strengthened peacekeeping and peacebuilding, providing better information and early warning information, Dicarlo added.
He noted that the United Nations Mission in Yemen (UNMHA) was using mapping and satellite technology to improve ceasefire observation in support of the Hodeidah Accords and to "increase the UN's ability to understand, analyze and respond to crises that may have a digital dimension." … tackle digital risks ".
In addition, new technologies can support the political process, especially by promoting inclusion. "In various peace talks, we have used digital dialogue with artificial intelligence (AI) to reach thousands of conversations, listening to their views and priorities," he said. "It was a special way to reach out to traditionally marginalized groups, including women."
New technologies can improve the safety and security of peacekeepers and civilian personnel.
"The introduction of a strategy for the digital transformation of peacekeeping represents an important step towards this goal and the implementation of a more effective mandate – through the enhancement of early warning capabilities," said the Chief Political Officer. .
These tools also help to visualize information and provide data-rich analysis of Security Council resolutions – as highlighted by the recent virtual reality presentation in Colombia, highlighting the UN's work on the ground for ambassadors.
Anxious tendencies
However, there are areas of concern, with DiCarlo quoting estimates that the number of incidents involving technology used for malicious purposes has nearly quadrupled since 2015.
"Activities targeting essential public service infrastructure, such as health and humanitarian organizations, are of particular concern," he said.
At the same time, lethal autonomous weapons raise questions about human responsibility when force is applied. Echoing the Secretary-General of the United Nations, he called the machines "politically unacceptable, morally unacceptable and prohibited by international law" with the power and prudence to take life without human involvement.
"Non-state actors are being able to use increasingly low-cost and widely available digital technology to achieve their goals," UN officials warned, adding that terrorist groups such as al-Qaeda are actively using social media platforms to recruit, plan and raise funds.
He points to the impact of new technologies on human rights, surveillance technology that can target communities or individuals, artificial intelligence that can be discriminatory.
"We are also concerned about the growing use of Internet disruptions, especially in the context of active conflict, which deprives communities of their means of communication, work and political participation," said Mrs. DiCarlo, citing the example of Myanmar, where such incidents have occurred. The number and duration have increased since last year's military coup.
In addition, he continues, social media can fuel polarization and violence by spreading misinformation, fundamentalism, racism and misogyny, which increases tensions and escalates conflict.
"In Ethiopia, as the war intensifies, alarming rhetoric has spread on social media posts, with some escalating to incite ethnic violence," a senior ISIS official recalled. UN Security Council "We also know that misinformation can hamper our mission's ability to carry out their orders, exacerbate lies and fuel polarization."
In advancing peace, while taking advantage of the opportunities provided by new technologies, risks must be mitigated and responsible use must be promoted by all.
As the Hate Speech Action Plan and communication initiatives have been verified, the United Nations is working to reduce these risks by avoiding misconceptions and misunderstandings, Ms. DiCarlo told the meeting.
"However, more needs to be done," he concluded, highlighting the Global Digital Pact, which would define common principles for a "free, secure and secure digital future for all"; The new agenda for peace, which takes an holistic approach to global security; And draft codes of conduct for the integrity of public information.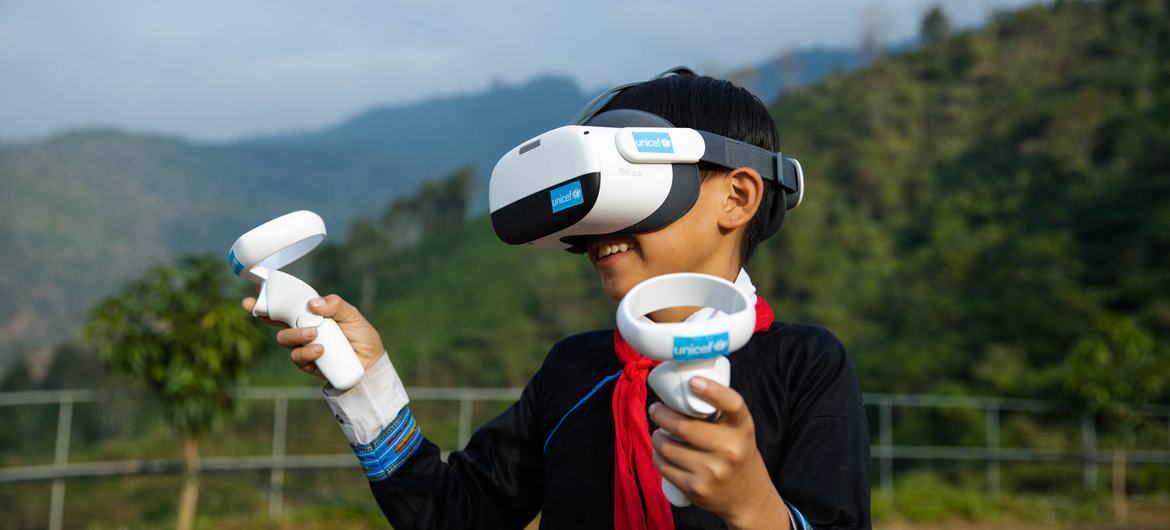 UNICEF / Hwang Le Vu
A student uses AVR technology at his school in Lao Kai Province, Vietnam.
Digital rights
In a video conference presentation, Nanjala Nabola, director of the online community Global Voices' digital rights project Advocates, highlighted the need to protect and uphold digital rights.
"Over the past two decades, we've seen a dramatic expansion in the use of digital technology," he said, but "unfortunately this expansion has not matched the same kind of investment to protect us from the damage it has caused."
The rapid pace of technological advances has created problems that could have been avoided at an earlier stage, Ms Niabola said, calling for a broader moratorium on new surveillance technology.
She drew the Security Council's attention to digital access policies and Internet disruptions, highlighting how they negatively affect cultural and economic minorities and impede women's access.
"Digital rights are human rights," he said, adding that users must be protected.