July 20, 2022
Six months in a modified van
Dreaming of freedom on the streets of South Africa
By: Vincent Guilbault
In 2017, the Gallant-Charon family left their home in Saint-Denis-sur-Richelieu to travel to South America for five months. After two years of sacrifice and preparation, the family of four (Jean-Francois Gallant, Yves Charon, and their children Loic and Elian) boarded their Dodge Caravan converted camper for Guatemala. This experience forever changed the little family, who decided to go on an adventure this time to visit South Africa.
At the time of this interview with L'ŒIL, on July 14, the family had just moved to Durban, South Africa. Arriving on African soil on June 28 in Johannesburg, the family had to wait for their car until July 19 to continue their journey, transported by boat. The Dodge Caravan, exhausted from miles on various trips, was no longer able to provide safe transportation for the family, who at this time began working on a modification to the Dodge Ram Promaster, a van type used by contractors. Equipped with solar panels (550 watts), an induction stove, bed, a table, lots of storage, a small roof terrace and even a small bathroom, the car allows the family to be completely independent.
"The vehicle is a big part of the preparation," explains the father of the family. On his YouTube account, Mr. Gallant also released a video explaining all the changes he made to the car.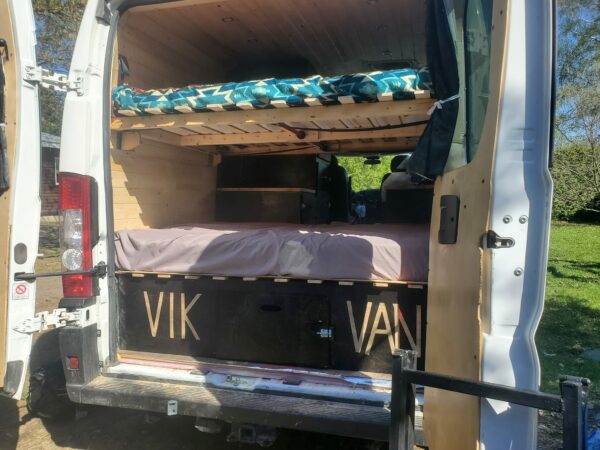 The second step is preparing the route. The family will leave South Africa for Namibia, Botswana, Zambia, Tanzania, Kenya, Malawi and Zimbabwe. "These are the safest countries", underlines Yves Charon to justify the choice of these countries. Some African countries are at war, others have escaped government control and crime is high. "Every country requires a different visa; You have to find the right documents, it's a lot of preparation. »
A change of scene
While waiting for the car, life in Africa resembles America, explains the family, who currently live in accommodation rented through Airbnb.
Except for the roads, where the villages show the vast poverty of Africa. The family also noted the racial divide between whites, who are wealthy, and blacks, who live in poverty.
Jean-Francois Gallant also said he was identified with the energy crisis in South Africa, which has forced the government to plan load-shedding and power cuts. "Any kind of resource is very valuable (water, electricity). In America we overeat it! »
"As soon as the van arrives, we leave for Namibia, explains Eve. We will see the oldest desert in the world, see abandoned villages where houses are covered with sand. »
Travelers also want to see the Maasai, a semi-nomadic indigenous people living in Tanzania and Kenya. "You can't go there without a guide," adds Ms Charon. They are a people who raise goats in traditional ways and who reject technology. This is where the family feels they are most out of place.
To follow the trip: "Spark of Freedom" on Facebook, YouTube and TikTok.
lifestyle
When they return from Africa next January, if all goes well, the family will have visited a total of 22 countries and all Canadian provinces.
The first trip to South America was a great experience, with only a few technical glitches. Street school also went well and back to class was normal.
"That first trip was the trigger for our new lifestyle," says Ms Charon. Thus we shall now travel. »
Such trips are expensive and therefore require many sacrifices and compromises, such as living in caravans for many months. "So we have to focus on that, put our money aside, deprive ourselves of outings. We raise our own pigs and chickens for food. But it is a matter of will. Yes, I pay well, but I think you can travel within your means", thinks the father of the family.
Of course, returning to "normal" life after six months of travel brings its share of blues. This is the reason the couple hopes to survive once the children leave home. "In a few years, we plan to take our early retirement van, leave home. Travels have confirmed that we love this lifestyle," concludes Ma.
To follow the journey: Spark of Freedoms on Facebook, YouTube and Tik Tok.